RESTORATION AND CONSERVATION OF FURNITURE AND DECORATIVE ART
There are few things more satisfying than seeing the patina and lustre of a piece of furniture revived after perhaps centuries of the effects of climate and atmosphere or neglect.  You might even need major disasters corrected like severe cracks, gouges, heat or water damage.
RESTORATION TO IMPROVE AND ENHANCE – CONSERVATION TO PRESERVE AND PROTECT
The art of furniture restoration and conservation of Lindsay Courtois follows the ancient ébéniste traditions leading back to the original furniture makers of Europe. It requires deep understanding of their original techniques and knowledge of timbers, veneers, polishes and the history of the furniture itself.
Most importantly there must be professional judgement and ability to execute subtle restoration or repair that maintains as much of the original as possible and protects the essential values and authenticity of every valuable piece entrusted to the restorer.
This expertise from another era is matched with knowledge of glues, dyes and myriad waxes, rare materials for replacing intricate marquetry, a store of suitable specialist woods and the ability to source almost impossible to get timbers, components and hardware.
OLD WORLD SKILLS FROM THE WORKSHOPS OF EUROPE APPLIED TO ALL ERAS OF FURNITURE AND EXCLUSIVE EXPERTISE IN AUTHENTIC REPRODUCTION
With more than 30 years of experience, Lindsay Courtois is a lifetime craftsman, originally apprenticed to a master furniture maker and now a rare French-trained expert in Australia, following a career that included training in old world workshops of Versailles,  Paris.
Arriving in Australia in 1988, Lindsay quickly established himself as a master restorer for the nation's most eminent antique and fine arts dealers, decorators and many private clients.
GILT WORK OR ORMOLU – AUSTRALIA'S SPECIALIST
A specialisation is the art of ormolu, known in French as bronze doré or gilt in English. Lindsay Courtois expertly cleans and replaces this fine work on clocks, furniture, picture frames and object d'art.
FROM COLONIAL TO 18th CENTURY, FRENCH, ART NOUVEAU, ART DECO TO MODERN
From a simple repair to restoring missing components, to complex conservation, this expertise is accessible to you. Lindsay will assess your piece and recommend appropriate action according to your needs and budget, whether it's a prized heirloom or an under appreciated piece discovered in a less than perfect state. All our restoration techniques are in accordance with international antique restoration and conservation standards.
VITAL ADVICE AND ASSESSMENT
– WE MAKE IT EASIER AND SAVE YOU TIME
We realise our clients are busy and that people often put off their restoration or conservation because they don't have time. That's why we are happy to give advice and an estimate from photos you send us through the links on this website, by SMS on 0411 369905 or email courtoisantiques@bigpond.com
FREE CONSULTATION, PICK-UP & DELIVERY – ALL AREAS – PHONE 0411 369905/02 4655 3437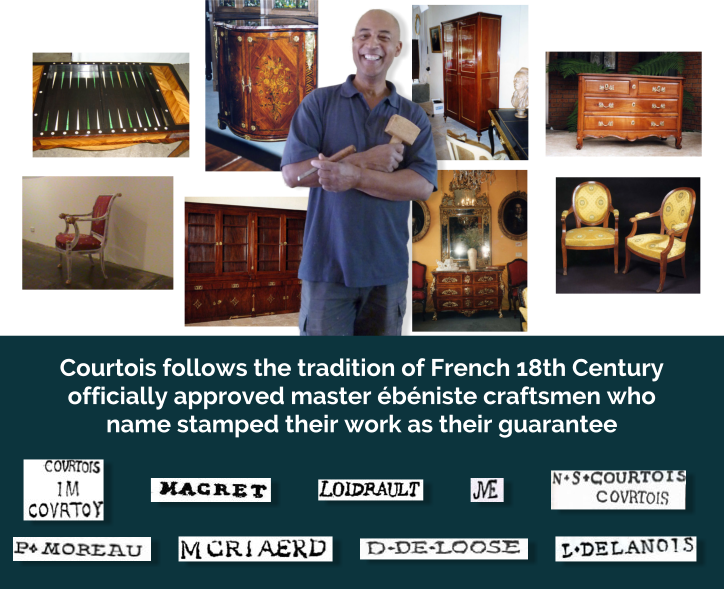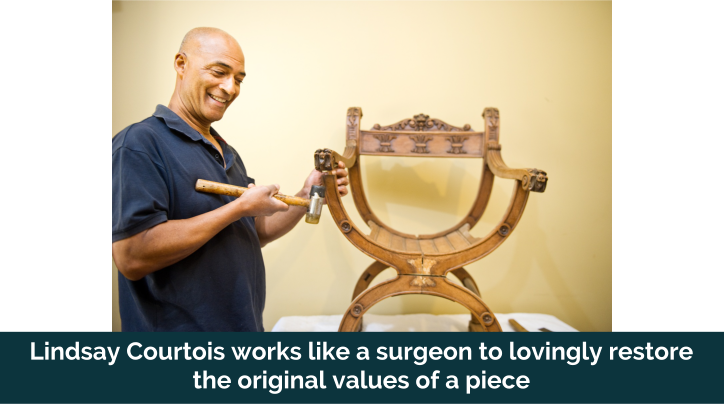 info@lindsaycourtoisrestoration.com.au
Monday – Friday
Saturday by appointment only
PO Box 1131
Camden NSW 2570
Australia